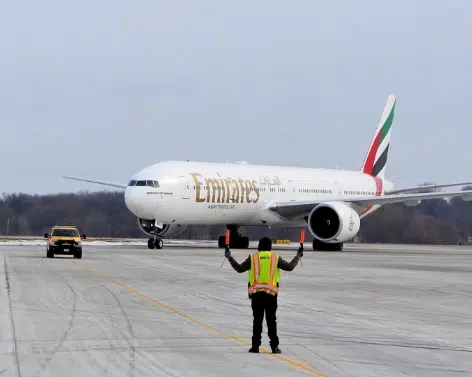 RFD Shares Emirates SkyCargo Announcement; Becomes its Latest Cargo Destination in the U.S.
ROCKFORD, Ill. (Feb. 10, 2022) – The Chicago Rockford International Airport (RFD) today shared Emirates SkyCargo's announcement that it has become the Dubai-based carrier's latest cargo destination in the US.
In full, Emirates SkyCargo's announcement was as follows:
Emirates SkyCargo enhances US Midwest connectivity
Chicago Rockford becomes Emirates SkyCargo's latest cargo destination in the US
Dubai, UAE, 09 February 2022 – Emirates SkyCargo has announced that it has commenced freighter flights to Chicago Rockford International Airport (RFD) from 1 February 2022, further expanding its route network and connectivity in North America.
Emirates SkyCargo will operate scheduled and ad-hoc flights to Chicago Rockford on a combination of Boeing 777-F and Boeing 777-300ER mini freighter aircraft. The air cargo carrier's new service will complement the cargo connectivity it offers in the US Midwest region through O'Hare International Airport, Chicago (ORD) and Rickenbacker International Airport, Columbus (LCK). Customers in the region can now take advantage of the additional choice and flexibility to transport their cargo across Emirates' global network of more than 140 destinations.
Nabil Sultan, Emirates Divisional Senior Vice President said, "Emirates SkyCargo is delighted to commence operations to Chicago Rockford International Airport, adding yet more connectivity to further boost trade between the US Midwest and the rest of the world. We would like to thank the RFD airport team and other local partners for their support in gearing up for our freighter operations."
Mike Dunn, Executive Director of Chicago Rockford International Airport, said: "RFD continues to grow from strength to strength and securing our first international scheduled airline air cargo service with a major global airline like Emirates marks a major milestone in the history of our airport. On behalf of the Board of Commissioners at RFD, I want to take this opportunity to thank all the team at Emirates for the tremendous amount of hard work, professionalism and commitment they have shown in making this project happen. I also want to thank my cargo team and the team at Emery Air for stepping up and coming through a rigorous compliance process. We have all been on a long journey to get to this point, but is a journey that is now really only just beginning and where we look forward to developing a long-term relationship with Emirates.
"This exciting new air cargo service will provide added choice for importers and exporters looking to ship into and out of the Chicago Midwest market and wider catchment area, where this new network combination of Emirates and RFD can play a vital role in providing the flexibility, cost savings and efficiencies air cargo shippers are looking for as we enter a new era of air cargo operations."
About Emirates SkyCargo
Emirates SkyCargo is an important facilitator of international trade with its cargo flights to more than 140 destinations across six continents. In the Americas, Emirates SkyCargo operates scheduled flights to Aguadilla, Bogota, Boston, Chicago, Columbus, Dallas, Guadalajara, Houston, Los Angeles, Mexico City, Miami, Newark, New York, Orlando, Quito, San Francisco, Sao Paulo, Seattle, Toronto and Washington D.C.